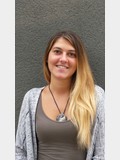 Sara Siniscalchi Minna
PhD Student
Subline:
ssiniscalchi (at) iri.upc.edu
My PhD Thesis
Started:
01/10/2016
Sara Siniscalchi Minna is a PhD Fellow at the Institute for Energy and Research of Catalunya (IREC) and at the Politechnical University of Catalunya-Automatic and Control Department(UPC-IRI). As part of the european project INCITE, she is working on distributed control strategies for wind farms to optimize the participation of wind power plants in ancillary services. She received her Bachelor and Master's degrees in Energy Engineering at the Univesity of Rome LA SAPIENZA.
As contributor
European Project

Start Date: 01/12/2015
Publications
S. Siniscalchi, F. Bianchi and C. Ocampo-Martínez. Predictive control of wind farms based on lexicographic minimizers for power reserve maximization, 2018 American Control Conference, 2018, Milwaukee, USA, to appear.